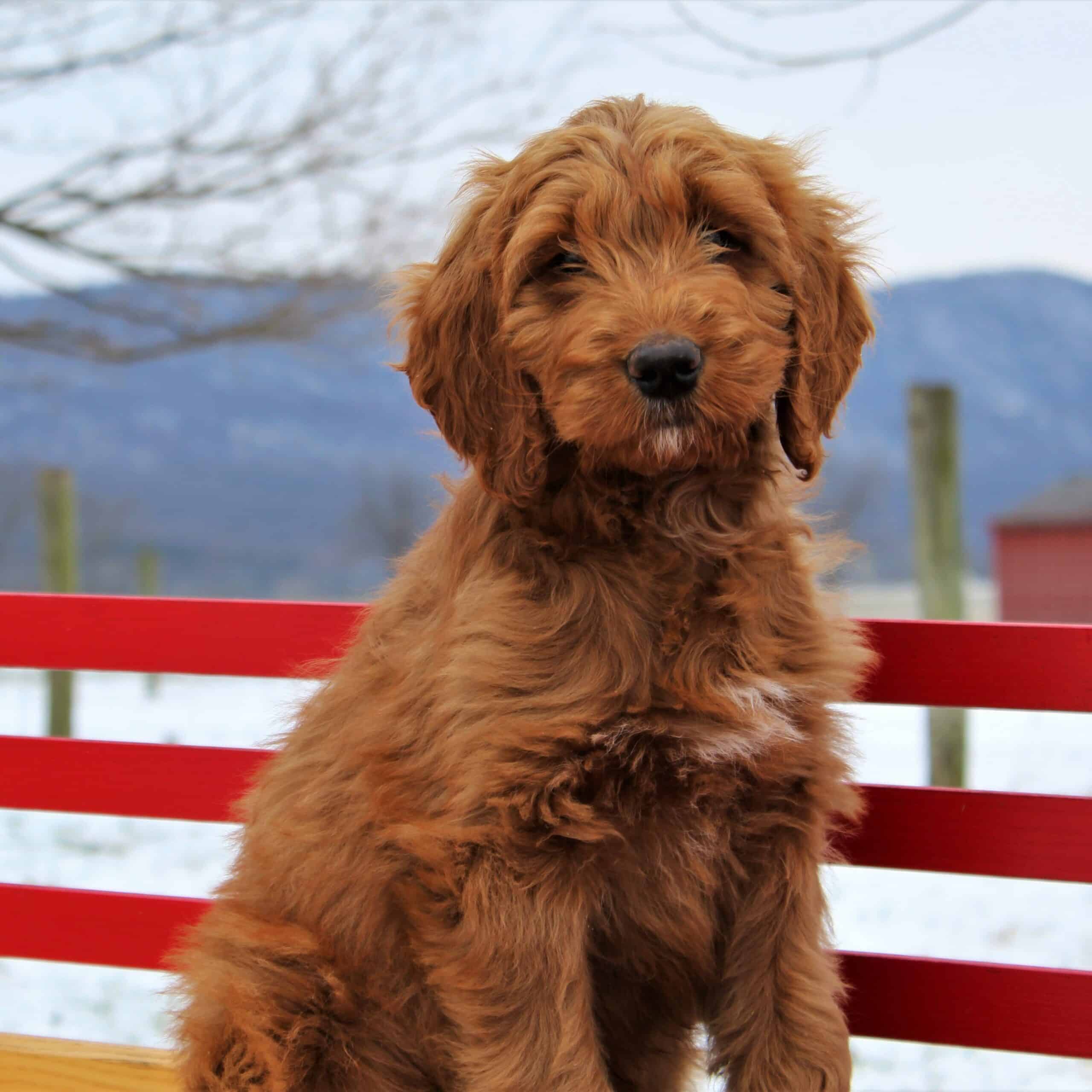 Breed: Mini Irish Doodle
Group: Designer
Height: 12-17"
Weight: 25-35 lbs
HypoAllergenic: Yes
Coat: Curly
MINI IRISH DOODLE PUPPIES FOR SALE
Our Mini Irish Doodle puppies for sale bring energy and family-fun to your home!  Mini Irish Doodles are known for their fun personality, loyalty to their owners, and a beautiful-colored coat and are a small version of the Irish Doodle.  As a designer breed, they combine the best traits from the Irish Setter and Mini or Toy Poodle. Browse our Mini Irish Doodle puppies for sale today!
1. Are Mini Irish Doodles hyperactive?

Mini Irish Doodles certainly have plenty of energy! They will need a good amount of vigorous exercise every day to keep them happy, so if you want a dog that is happy to just chill on the couch, the Mini Irish Doodle may not be for you.

2. Are Mini Irish Doodles expensive?

One con of Mini Irish Doodles is that they do tend to be fairly expensive, as they are an uncommon breed. Mini Irish Doodles tend to be even more expensive than standard ones as well.

3. How do Mini Irish Doodles do with other pets?

Mini Irish Doodles are gentle, friendly pups, but take a look at their parents and you can see that they may have a high prey drive. Irish Setters are hunting dogs that LOVE to chase small animals, and Poodles were originally bred to be retrievers. So be sure to watch your Mini Irish Doodle when he is around smaller pets like birds or rabbits, and keep a sharp eye on him when he is off the leash at the park! He may get it in his head to run off after some prey.

4. Are Mini Irish Doodles good for first-time dog owners?

Yes, Mini Irish Doodles can be wonderful first-time dogs. Just be sure you know what you are getting into and are up to keeping up with their energy and exercise needs.

5. Are Mini Irish Doodles good family pets?

Yes, Mini Irish Doodles make excellent family pets! They tend to be especially patient and gentle with young kids.

6. Do Mini Irish Doodles need to be clipped?

How much and how often your Mini Irish Doodle will need a trip to the groomer depends on his individual tendencies. But most of these pups will need an occasional trim to keep them from looking like wooly teddy bears.

7. Do Mini Irish Doodles get separation anxiety?

Mini Irish Doodles love to be with their families and do not like to be alone for long periods of time. The way they bond closely with their owners can result in separation anxiety issues, but with proper training, you can leave them alone for short periods.

8. How much do Mini Irish Doodles shed?

Poodles are very low-shedding dogs, and Irish Setters tend to be low-moderate shedders. That means Mini Irish Doodles will tend not to shed much.

9. Are Mini Irish Doodles smart?

Yes, Mini Irish Doodles definitely have some smarts! They get brains from both their Poodle side and their Irish Setter side.

10. Where can you register a Mini Irish Doodle?

Because they are designer dogs (crossbred dogs), you cannot register Mini Irish Doodles with the AKC. However, you can register them with the American Canine Hybrid Club (ACHC), the Designer Breed Registry (DBR), the Designer Dogs Kennel Club (DDKC), the Dog Registry of America, Inc. (DRA), or the International Designer Canine Registry (IDCR).