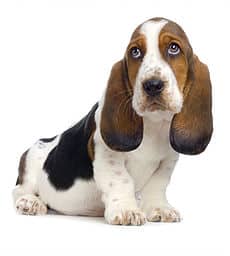 Breed: Basset Hound
Group: Hound Group
Height: up to 15"
Weight: 40-65 lb
HypoAllergenic: No
Coat: Short, Smooth
Activity:
With Children:
With Animals:
Grooming:
Guard:
Trainability:
BASSET HOUND PUPPIES FOR SALE
Our Basset Hound puppies for sale are sure to make a great addition to your home, family and daily routine!
Basset Hounds are a smaller dog with big dog strength and stamina. They are great tracking dogs as they have an uncanny scenting abilities. They are adorable and must certainly be the original for "puppy dog eyes". Mild yet steadfast and very loyal…a Basset Hound might just be the perfect dog for you!
Originally bred in France and Belgium they were often used by aristocrats for tracking while hunting rabbit or deer.