Are you hoping to buy or adopt a puppy in the near future? 
Good for you! You'll gain a cuddly companion in your home and even experience better health. For example, research shows that: 
But be careful! 
Puppy sale scams are common and are becoming even more rampant during Covid-19 when it's difficult to arrange in-person visits. 
You also want to avoid patronizing a puppy mill - you would be enabling an inhumane business, and there's a good chance your puppy would suffer from fear and behavior issues for its entire adult life. 
At Infinity Pups, we understand your fear and frustration. We want to help you have an excellent experience owning a puppy!  
Thankfully, you can avoid losing your money in a scam and make sure you buy from a reputable breeder with just a few tips. 
Let's get started and figure out what they are!
Common Puppy Scams To Avoid
The Better Business Bureau, a nonprofit that tracks consumer fraud, has recorded more than 2,100 online puppy scams in the United States and Canada from mid-February 2020 to the end of July 2020, up from 700 during the same period in 2019.
Some scammers build elaborate custom websites with dozens of pictures of dogs and fake testimonials. Others spam Craigslist with fake dog postings.
How can you avoid puppy scams? 
First off, here are a few common puppy scams to watch out for: 
The "I Don't Have Enough Time" Scam
Many puppy scammers present themselves as dog-lovers who no longer have adequate time to spend with their furry friends.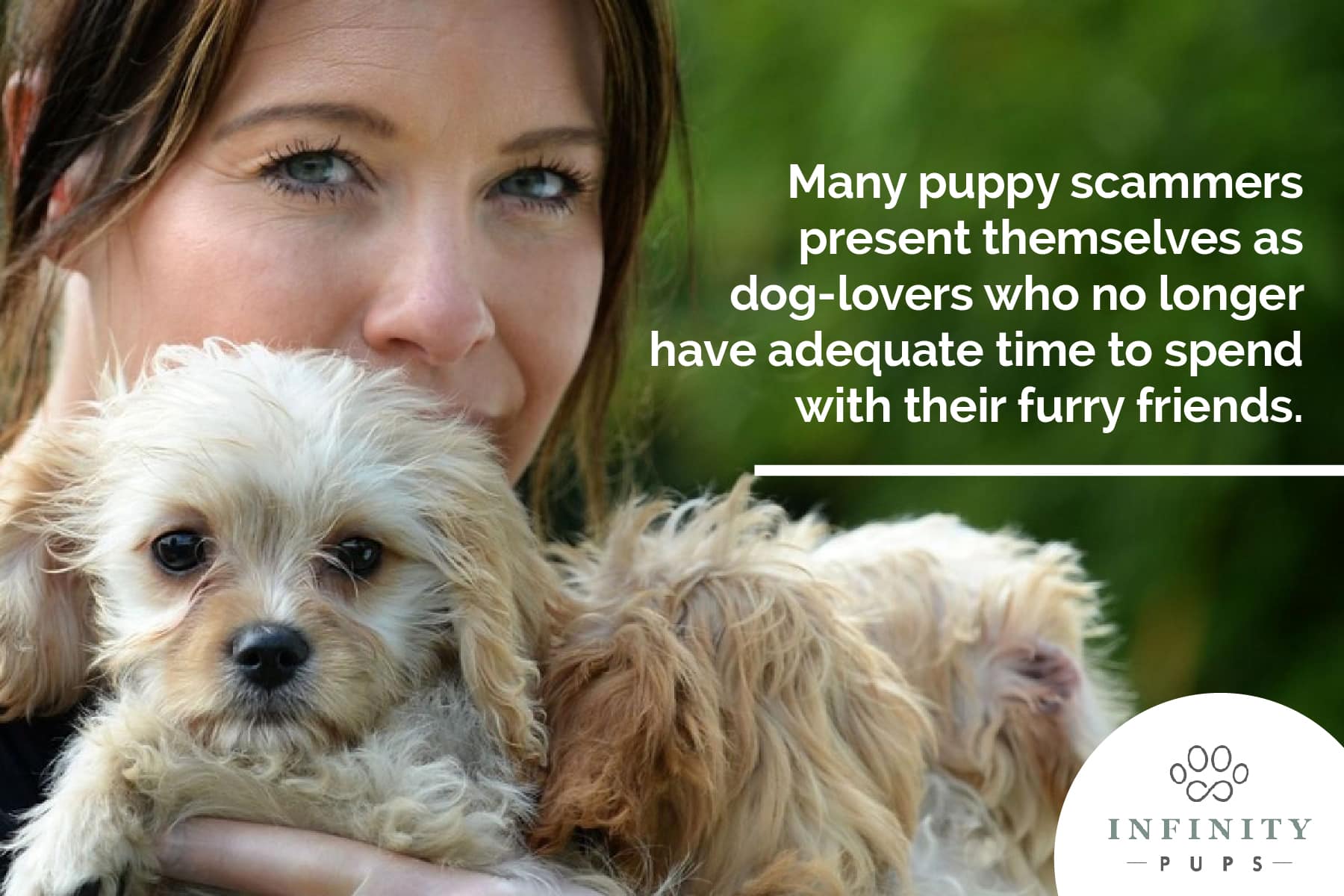 This pulls on the heartstrings of real puppy lovers. You want to see a puppy in a home where they get all the attention and care they need. If you are looking for a puppy, this seems to be the perfect fit! 
Unfortunately, some of these "situations" are just ploys put out there by scammers.  
Of course, everyone that is out of time and needs to get rid of their dog is not necessarily a scammer. It is a popular tactic that should put you on high alert, though! 
The "I Had To Move Because Of My Work" Scam
This is a perfect shady deal for those who are trying to make money dishonestly. 
Why? 
Moving or being transferred because of work gives them a perfect excuse for getting rid of their puppy.

Because they moved, their puppy is no longer with them. This allows them to ask for a shipping fee so they can ship the puppy to you. 
Again, treating any individual rudely based on a snap judgment is inappropriate. However, when you see this kind of language in a puppy ad, there's a good chance it's a scam. 
The "Upgraded Shipping Materials" Scam
Puppies can be safely and humanely shipped - so it's not fair to accuse anyone asking to ship a puppy of dealing you a low blow. 
However, a common puppy scam includes an email from an "airline" asking that you pay extra money for your puppy's safe transportation. A common item that is referenced is an "electronic air condition travel crate."
If you are concerned about a puppy transportation scam, it may be a good idea to check with the  International Pet and Animal Transportation Association (IPATA) 
IPATA even creates an updated list of puppy scammers that includes e-mail addresses and phone numbers. It never hurts to see if your scammer has already been reported! 
The "Too Good To Be True" Scam
It's no fun to bear bad news, but here is the sad truth: 
When an offer seems too good to be true - it probably is. 
Prices vary among different breeders, but most reputable breeders have a good idea of what their puppies are worth, and they don't want to give them away for nothing. So, when you see an unreasonably low price, make sure you do exhaustive research before agreeing to anything! 
6 Warning Signs Of A Puppy Sale Scam
There are specific puppy scams that you should be aware of (like the ones listed above). There are also warning signs that are in almost all puppy scams that you can learn to spot. 
Let's take a look at a few ways to spot a puppy scam online! 
1 - No phone calls. If a seller doesn't want to speak to you directly on the phone, you have reason to be concerned. Fraudulent sellers are often outside of the U.S. and may be hiding their phone number by communicating via email.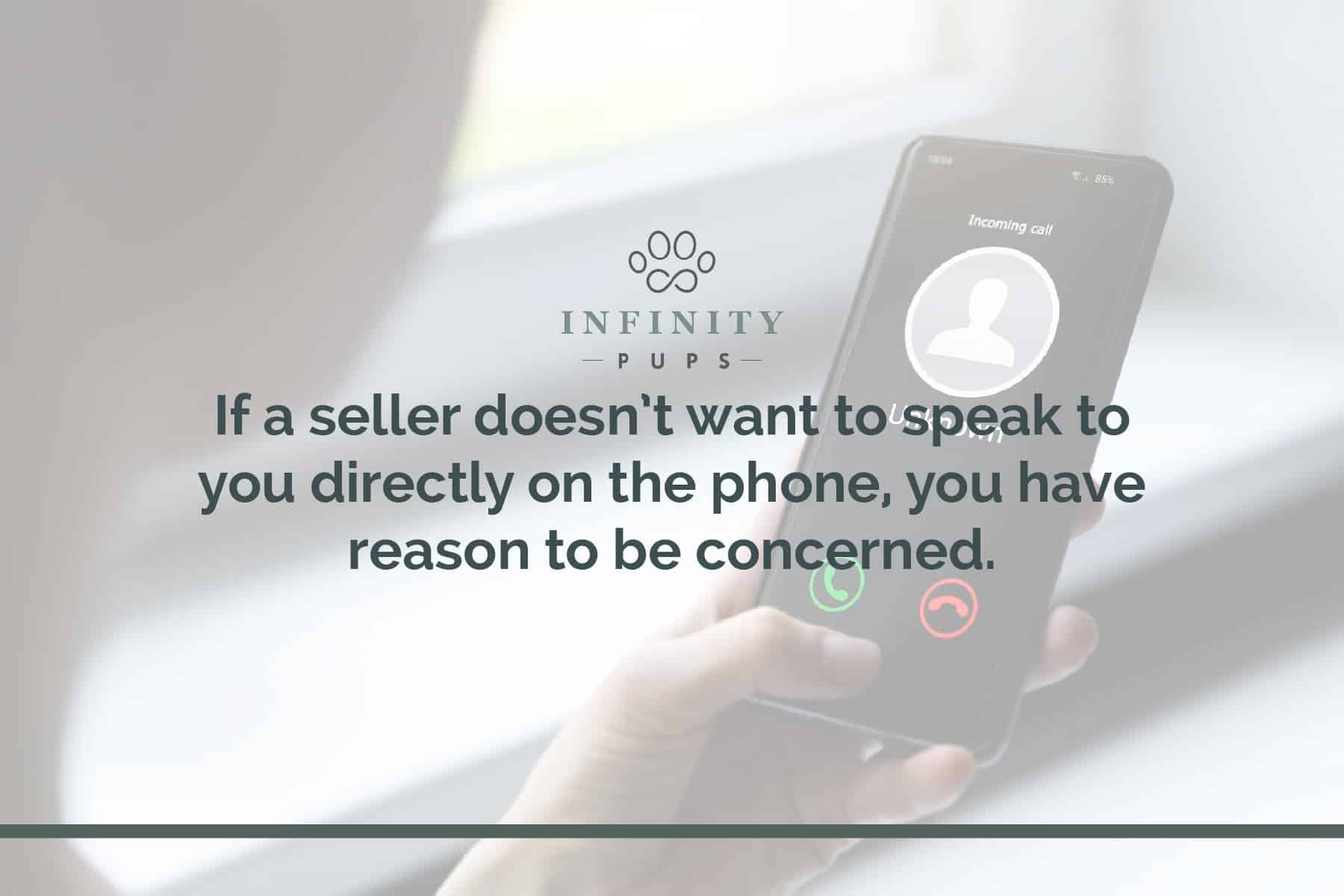 2 - Copycat of stock photos. Many scammers make their ad or listing appear genuine by stealing images and text from reputable puppy breeders. 
In other words: 
A photo isn't enough to prove that someone is an above-board breeder. And if the picture looks like it was pirated from another website, it's best to do more research. 
3 - Strange or Extra Payment Requests. If your seller asks for the wiring of money or payment through gift cards, you should be on high alert. 
We also caution against paying breeders through apps like Venmo as it's harder to get your money back if you need to.   
Also, keep your eyes open for "extra" or "unexpected" fees the breeder asks you to pay. It's a pretty solid sign of a scam and deserves caution. 
4 - Demand Immediate Payment. Please don't spend your time dealing with a breeder who demands you pay them in full before they answer your questions. 
Note: Sometimes puppy breeders get scammed - so don't blame those who ask for a down payment or ask you questions to make sure you really want a puppy. 
However, if money is a prerogative, you should likely look elsewhere - even if you aren't being scammed, you want to deal with a breeder who cares more about the care of their puppies than getting a lot of money. 
5 - Sob Stories. Please understand that we believe that sympathy is an outstanding character trait to have - without it, we would be a greedy, heartless bunch. 
However, things like deaths or family hardships in the description of a puppy ad are usually a clever way to impair your logic with emotions. And they are unnecessary for buying a puppy. 
6 - Unclear or Incorrect English. We deeply respect individuals who do not have English as their first language - and this is not a statement about any nationality in any way. 
It is true, though, that most puppy scams originate outside of the U.S. If you detect an apparent misunderstanding of grammar or language, you should pause and do more research before making any payments.
6 Tips For Avoiding Puppy Sale Scams
Now you can spot the warning signs of a puppy scam. But suspecting a con is not enough - you also need to know what to do if you question a seller's credibility. 
Here are our fail-safe tips to avoid getting swindled when purchasing a puppy: 
See The Puppy In-Person Before Paying Any Money
The old saying "seeing is believing" is pretty accurate in this case! 
If you want to be absolutely sure that you are not being conned, don't settle for pictures - ask to actually see the puppy. 
Ideally, make an appointment to visit the litter your puppy comes from before paying any money. Understandably, some reputable breeders may ask that you not visit their home or place of business - especially during Covid-19. 
You may also be interested in a puppy that is being sold in a location far from you - so you can't plan an actual visit to see the litter.
In either case, it's entirely reasonable to request a video call. No scammer would allow you to see their face, and of course, they wouldn't have puppies to show on video!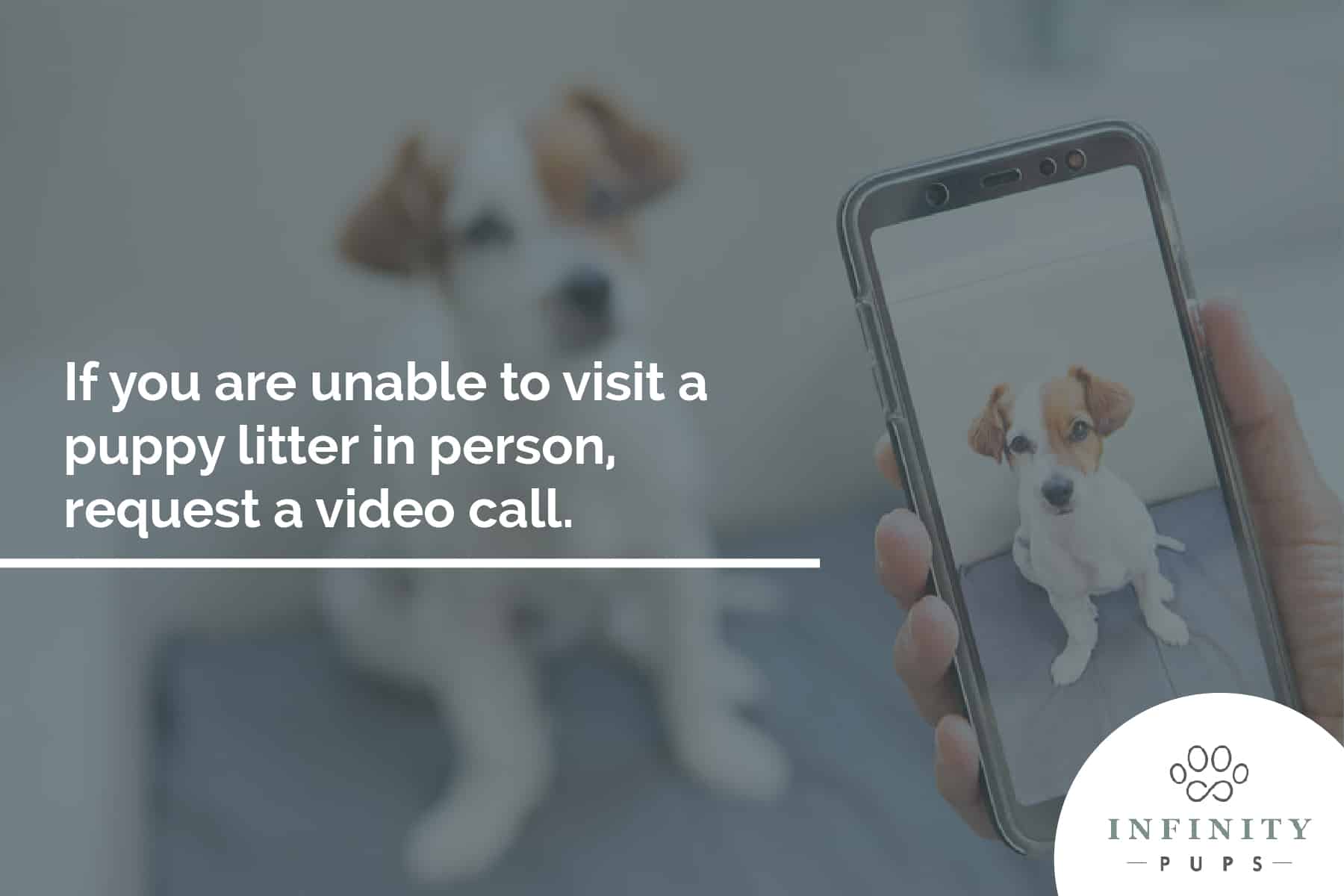 Ask For Pictures Of The Parents
Fraudsters with pirated pictures from reputable breeders will be in a tight spot when you ask for photos of the puppy's parents. 
They will have to go find more photos or stop moving forward with the deal. If they hesitate to give you pictures or claim that they threw the pictures away, you can be confident you are dealing with a swindler.
It's also a good idea to ask a few specific questions about the puppy's parents: 
It matters less that the parents have every certification available, and more that the breeder is knowledgeable and courteous in responding to your questions.   
Do A Reverse Image and Text Search Of The Puppy Ad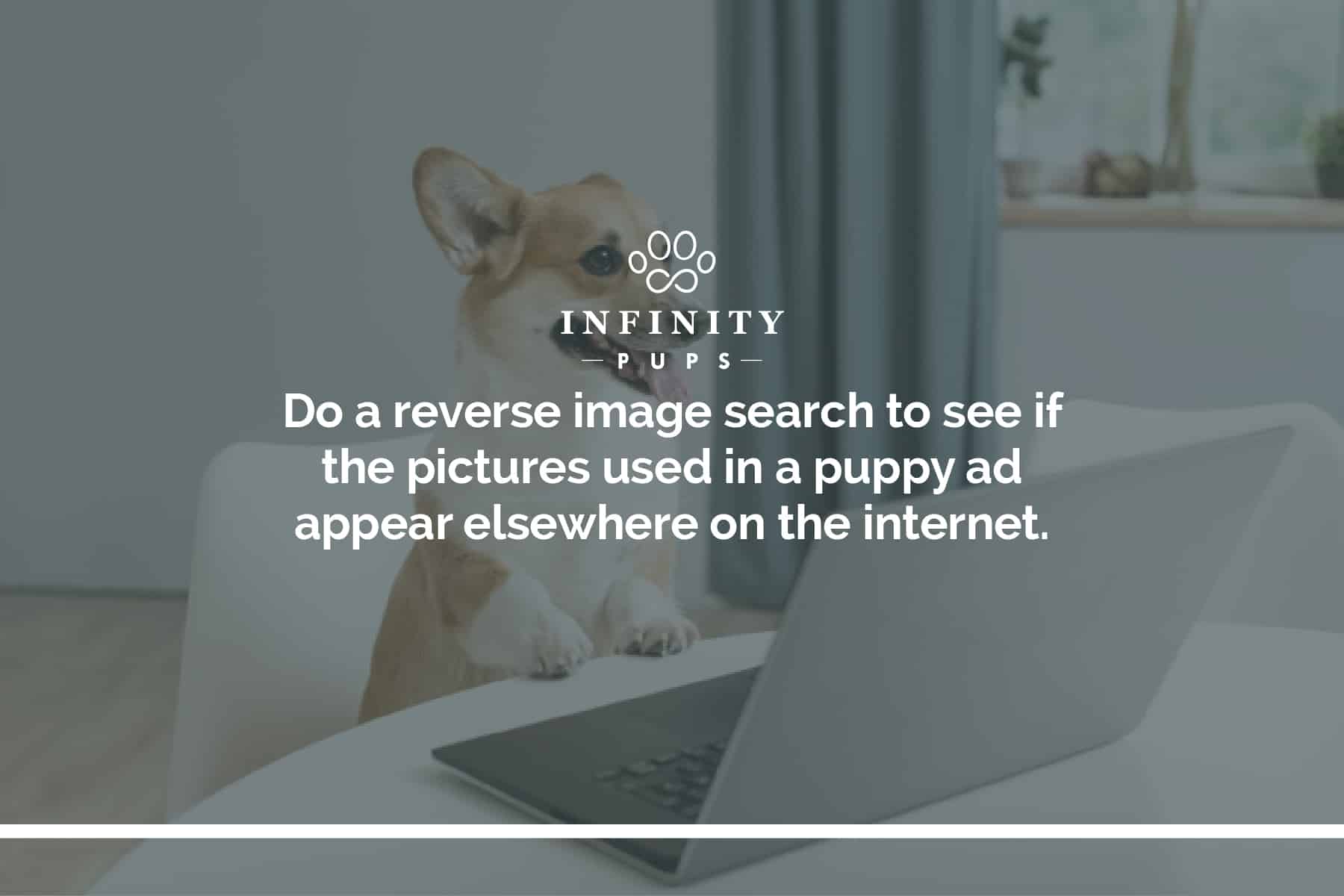 A good way to see if you are being scammed is to do a reverse search on the image and text used in the puppy ad you view. 
If you aren't sure how to do a reverse image search, don't worry - it's relatively easy. 
Reverse image search on desktop: 
Navigate to the Google Images main page.

In the search bar, click on the camera icon. This will give you a new search display offering you two options.

Option 1 is 'Paste Image URL,' which allows you to use the URL from an image you have found on the internet.

Option 2 is 'Upload an image,' which allows you to upload an image from your computer to use as the search item.

Whichever option you choose, after entering the URL or uploading the image, you simply click search to display the results:
The process is similar if you are doing a reverse image search using your phone. You can learn more about it by reading this article from Google Support.
Ask The Seller For References
A good breeder should be more than happy to give you plenty of references. After all, it's good marketing for them! 
Don't settle for comments coming from the seller or quotes posted on their website. Insist on speaking to someone that is NOT them. 
Sometimes a breeder may claim that this is their first litter of puppies - which may be true. Everybody has to have a first litter sometime!
In that case, ask to speak to the person that they got their puppy from or even a friend that could vouch for their character.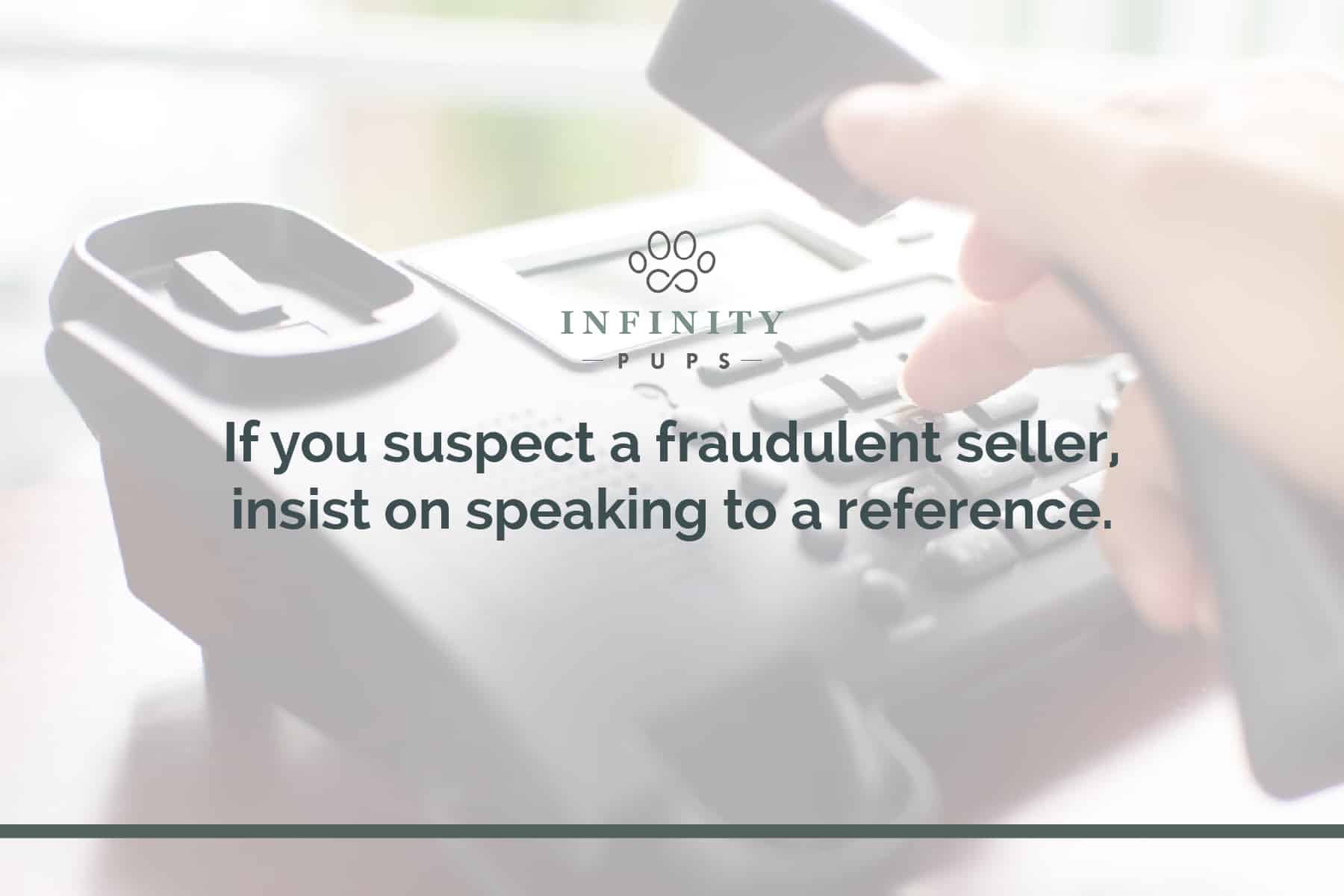 Don't Wire Money Or Send Prepaid Cards
You may think you're "securing" your claim for a dog by wiring a "deposit" or full payment in advance, but, really, you may be getting scammed. 
Wiring money is like paying in cash; there's no way to trace it back. The same goes for any kind of gift card or prepaid card. 
So, while it is legitimate for a breeder to ask for a down payment, don't give any money away until you've seen the puppy (either in person or on a live video chat). 
Use A Reputable Website
It is really convenient to search for puppies online. It's easy to compare prices, and you can save a lot of gas money! 
However, avoid sites like Craigslist and other popular selling sites. 
Instead, use a site like Infinity Pups that offers a large variety of puppy breeds, is authorized, and reviews breeders through a thorough examination process. 
See the end of the article for an infographic on how to avoid puppy scams!
What To Do If You A Victim
Of A Puppy Purchase Scam
Hopefully, you are reading this before you've been tricked into giving any money away. If that's not the case, or if you ever find yourself scammed by a puppy seller, there are a few critical steps you can take. 
Contact your credit card issuer.

In some instances, a puppy scam can turn into a larger issue, especially if you provided your credit card number to a seller.

Report the scam you experienced.

  It's best to immediately report what happened to you to a site like

petscams.com

or

Better Business Bureau Scam Tracker

so others can avoid the same demise. 

Try to get your money back.

Depending on how you paid, you may be able to get your money back. It may not be easy, but depending on how much you paid it's worth a try!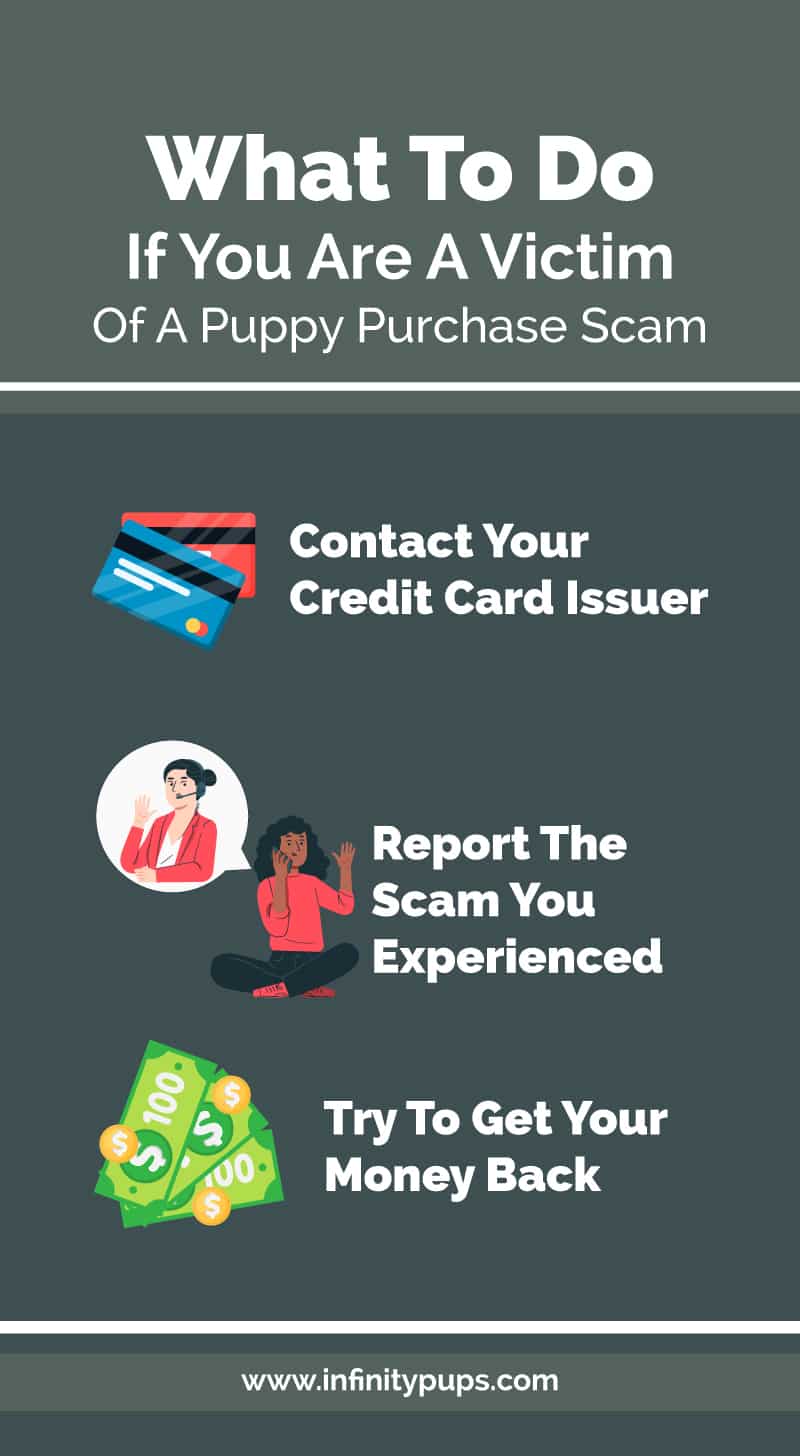 Things to Look For In A Puppy Breeder
The number one way to avoid a nasty con is to choose a reputable, trustworthy puppy breeder.  
Placing a value on good breeders is also how you can support responsible breeding and avoid funding the cruel puppy mill industry.
So, how can you choose the right breeder to purchase a puppy from? Let's take a look! 
1 - Choose A Breeder Who Goes Above And Beyond
A reputable breeder won't just provide you with the perfect pup. They'll offer numerous other benefits as well: 
They'll be a valuable source of knowledge and education about your dog's breed.

They'll help you select the right dog food and grooming supplies for your pup.

They can provide a timeline for what to expect during your dog's puppy years and may even be able to help troubleshoot training troubles.

They'll help match you with the puppy that's best suited to your household.
2 - Choose A Breeder Who Raises One Litter At A Time 
As a dog lover, there's a good chance you know how much work it is to raise one puppy. Now, just thinking about how much work it must be to raise several at one time! 
In other words: 
Breeders who have more than one (or two) litter of puppies "on the ground" at once might not be giving the puppies the attention they need in this critically formative time.
3 - Choose A Breeder Who Doesn't Breed Dogs Until They Are Two Years Old
Veterinarians recommend you wait to breed a dog until it is two years old. That means that sellers who breed female dogs before two years of age are either unknowledgeable, inhumane, or out to make a dollar. 
No matter which option they fall under, they are not someone you want to buy a puppy from. 
4 - Choose A Breeder That's Willing To Take A Puppy Back
Breeders need to watch their backs - and will likely ask you to sign an agreement when you buy your puppy. 
The agreement often states that you are now responsible for your puppy's health and that visits to the vet will be paid for by you. 
However, a reputable breeder also understands that things happen. If your puppy has a congenital disease or was sick before you purchased them, a breeder should take the puppy back or offer a full refund.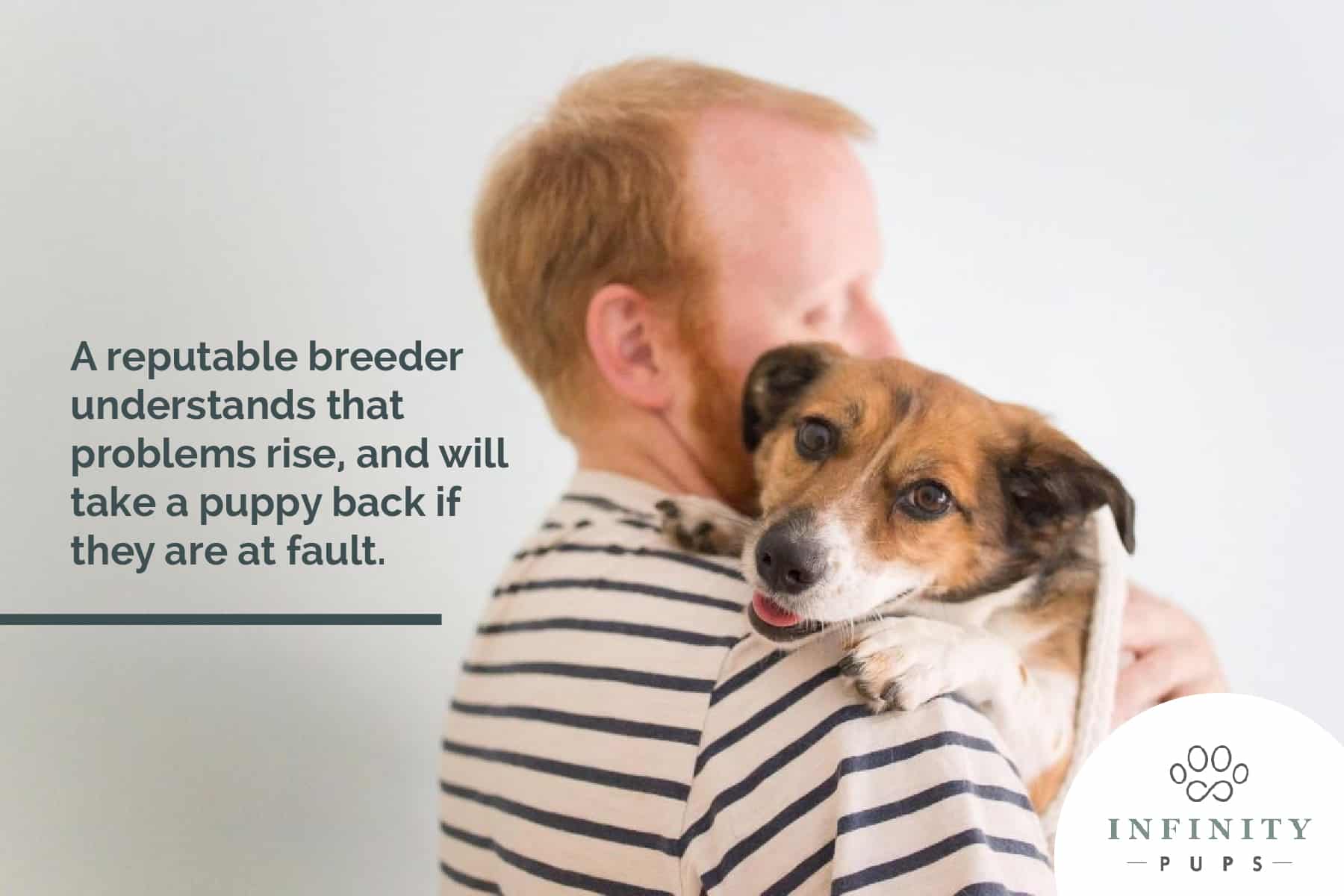 The Infinity Pups Guarantee
At Infinity Pups, we strive to offer you healthy puppies that make loving companions for your entire life. To do so, we offer you this guarantee: 
Our puppies are NEVER from a puppy mill

We review and screen all our breeders to make sure they are confident, knowledgeable, and humane. 

Safe, hassle-free,

puppy delivery

(if needed). 
Thankfully, working with us is incredibly simple! 
Find your companion by browsing

all puppy breeds

or the newly added

puppies for sale

. 

Interview the breeder directly

Schedule your puppies for adoption

Welcome your puppy home!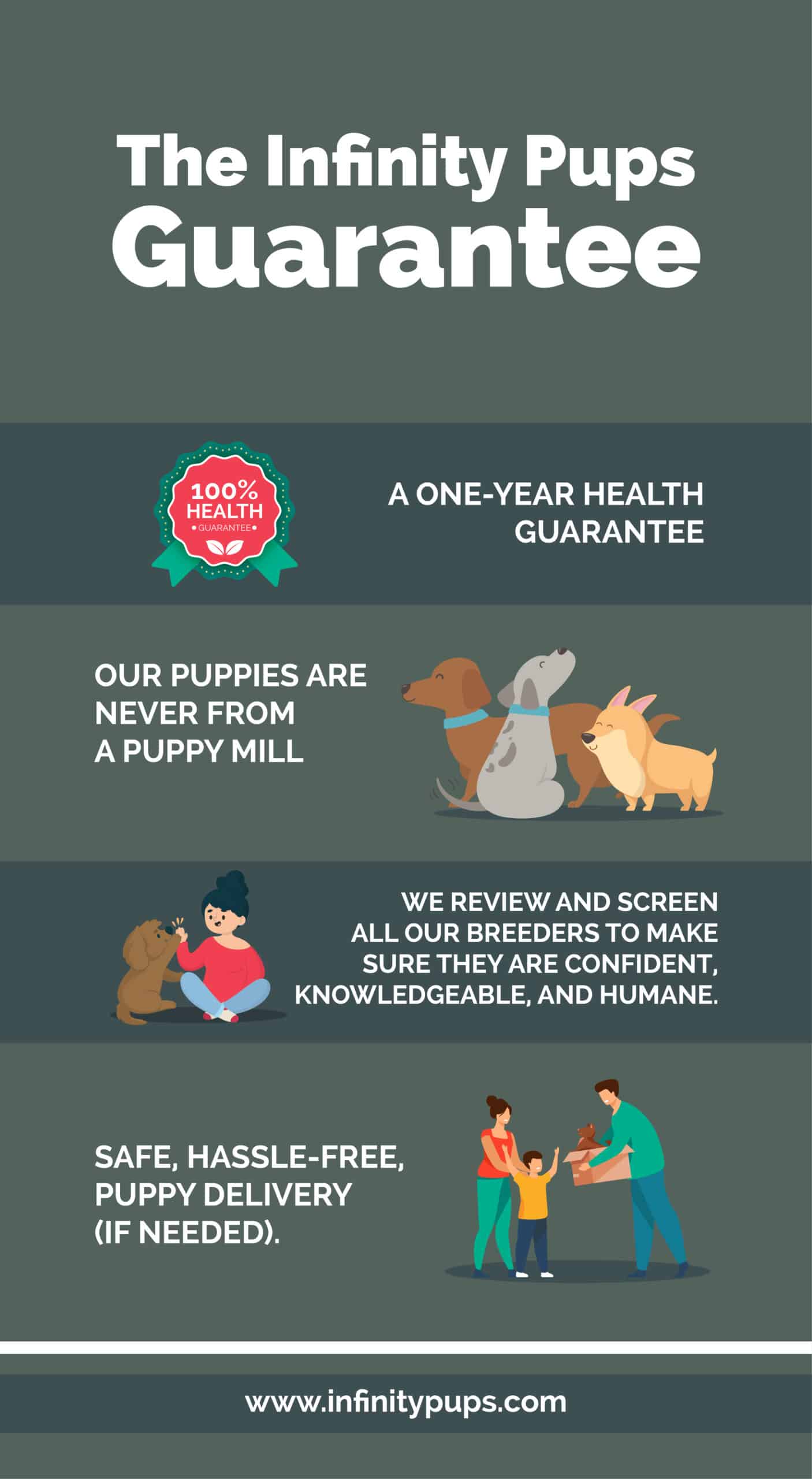 The fear of being the recipient of a puppy scam is real - but don't let it keep you from getting the companion and friend you long for.  
When you know how to spot a puppy scam and how to avoid them, you can find a reputable breeder who can give you a happy, healthy puppy. 
At Infinity Pups, we want to help you find the perfect puppy. We can even give tips and advice on caring for and training your puppy! (Check out our blog: 11 Things To Do When You Bring A Puppy Home). 
If you're thinking about taking the plunge and buying a puppy, we hope you'll reach out to us. 
Contact us today to find your puppy, or check out our breeds online. We look forward to hearing from you!