Selling puppies is a lucrative business. In fact, you can make it a full-time job–it's that profitable! And if you love dogs, then why not? 
But the truth is that selling puppies is not as simple as buying a female and waiting for the puppies to start churning out. There are a lot of things you need to think about, like licensing and certifying your dog, preparing your setup, and marketing and selling your puppies. 
At Infinity Pups, we interviewed two experienced puppy breeders to learn what it takes to start a successful puppy business. 
The breeders we interviewed are Gloria, who has raised Goldendoodles and Labradoodles for almost 20 years, and Laura, who watched her mom raise Golden Retrievers throughout her childhood and has now been raising them herself for about three years.  
Ready to find out what they said? 
Let's get started!
Why Start A Puppy Business?
Having a little extra income is always nice–but Gloria and Laura say that money is only part one of the equation. 
Here are a few other reasons why you might want to breed and sell puppies: 
You just love dogs!

If you want a dog anyway, selling puppies is a way you can support your dogs and bring in a little extra money simultaneously.  

You benefit psychologically and emotionally

. Gloria says, "I sell puppies because dogs and puppies are therapeutic for me. When life is stressful, puppy snuggles or time with my dogs helps me to de-stress." 

You have kids and want them to learn responsibility.

Raising dogs along with kids

provides some chores for the kids to do so they learn to work hard and love animals. However, make sure you always supervise your children with your dogs–raising puppies is not a good project for a child to do on their own.  

You want to bring joy to families.

In Laura's words, "Our dogs have brought us a lot of joy, and it's so special to be a part of bringing that joy to other families." 

You want to help improve a breed

. Good breeders are continually improving the breed they raise, and if you love a particular breed, you may want to be part of that. 
Raising puppies involves numerous heartaches and roadblocks, but it's also full of joy and fulfillment!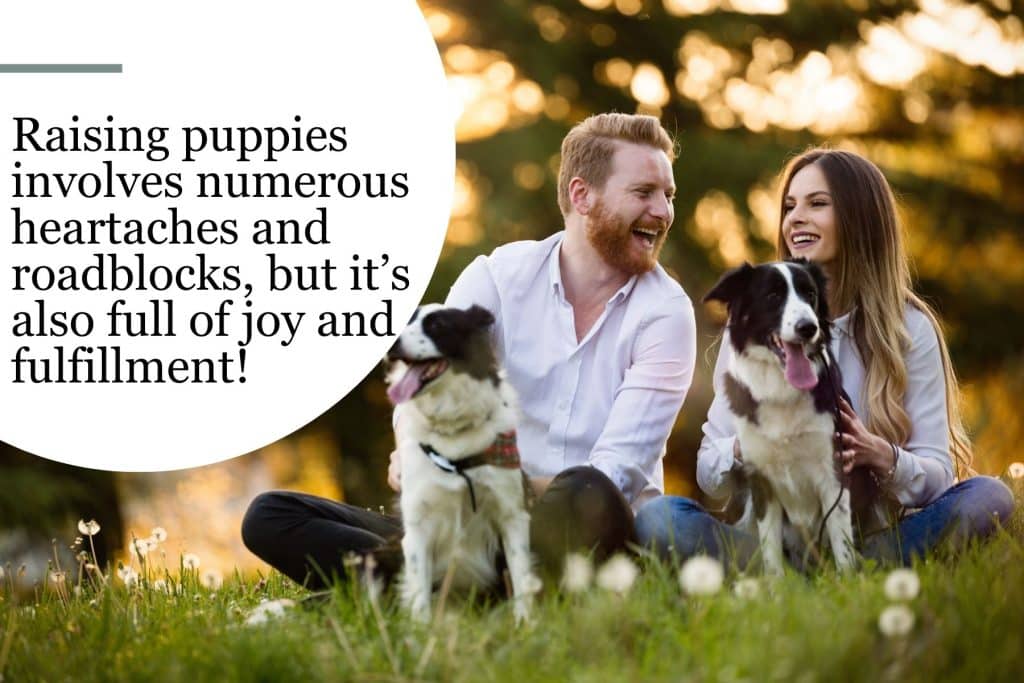 What Does It Take To Run A Successful Puppy Business?
So you want to raise puppies. What is starting a puppy business actually going to take? 
In this section, we'll cover the basics based on what experienced breeders say. Let's get started! 
Legal Matters 
Becoming a licensed kennel is fairly easy. 
How much legal red tape you'll have depends on how many dogs you have. Puppy breeding operations in which you have less than 25 dogs and puppies on your premises within a calendar year do not require any license. 
However, if you have over 25 dogs/puppies on your premises within a calendar year, you must have a KI kennel license. A KI kennel license requires that: 
Kennels be covered with a non-porous material

Kennels be kept clean enough that the dogs will not walk in their own feces

Smoke detectors and a fire extinguisher be kept in place 

A vet-approved exercise plan is in place for your dogs 

An outdoor run with space to move around and play is in place 
The paperwork for a dog kennel should be inspected twice a year. 
If you have 51-100 dogs and puppies on your premises in a year, you must have a KII kennel license. That means that in addition to the requirements of a KI license, you must also have: 
A climate-controlled building 

Ground-level outdoor runs built on a concrete pad that is cleaned and disinfected daily 
Depending on what kind of kennel you want to run, there are various other types of kennel licenses you may need. For example, different permits are required for a research kennel, rescue kennel, or a dealer operation where you don't raise the puppies but simply sell them for others. 
Preparing Your Setup 
A well-organized setup goes a long way toward making your puppy business low-stress and easy to run. Here's a checklist of a few of the things you'll need: 
First, you must buy

a well-bred mother and a stud

(if you want to own your stud instead of hiring.) Ensure both have good bloodlines and minimal health problems–you want to

breed responsibly

, so you don't get puppies with anxiety issues, dental problems, or genetic diseases like heart murmurs. 

Secondly, you'll need

a place for your dogs to live.

You'll likely need an outdoor run and a shelter with dog doors. A wireless fence is recommended for larger dogs, so they can run more freely. Letting your dogs roam free helps keep your run cleaner and is healthier for the dogs. 

Find a good vet, preferably a local one with 24-hour care and emergency services available. Building a good relationship with your vet is crucial, as you may need them for crises! 

A good camera and some solid photography skills are a must, as good pictures are a

huge

selling point. An online presence with good pictures and testimonials is also crucial to building your credibility as a seller. Puppy scams are all over the place, and if you look like a scam, you will lose sales. 

An emergency fund for C-sections, unexpected vet bills, and accidents can come in handy. We recommend keeping a $1,000 emergency fund on hand. 

You'll need countless other

whelping supplies

to

raise your puppies

and care for the mother: a whelping box, puppy feeding bowls, medicines, scales, puppy pads, puppy food and formula, supplements for mom, a thermometer, puppy collars, tracking charts, and more. And that's just the beginning! 

Lastly, an experienced mentor is an invaluable addition to your setup! Breeding puppies is complicated and full of unexpected challenges, and an experienced breeder to walk you through these things might make or break your first several litters. 
Marketing And Selling Your Puppies 
Once you have successfully brought a litter into the world, you must still market and sell your puppies. 
There are five keys to success when marketing puppies: 
Invest in a good camera–quality pictures of your puppies interacting with your family and being cute help your puppies sell. 

Be prompt and respectful when answering texts, calls, emails, and social media comments. These responses build your credibility as a seller. According to Gloria, "a missed call is a missed sale." 

Have social media accounts for your business where you post updates and puppy pictures. 

Have your paperwork in order. Register your adult dogs and be sure to have proper

litter registrations,

health guarantees, vet certificates, and up-to-date vaccinations and deworming.  

Listen to your customers! Remember that they are looking for a puppy to fill a need in their life. Showing empathy, caring, and listening to them goes a long way toward building good customer relations. 
If reaching potential customers and building credibility as a business sounds overwhelming, you can use puppy marketing sites like Infinity Pups. Marketing with Infinity Pups or a similar site offers you several benefits: 
You are assured that the people who view your puppies are interested in buying a puppy 

You won't have to fight the suspicion of being a scammer, as customers know you've already been vetted by Infinity Pups

You won't have to spend time and money keeping a website or social media page up to date 
You'll likely need to deal with challenging people when selling puppies. Some customers are mistrustful and afraid you'll treat them unfairly. Others don't have the money to pay for their puppy and may try to manipulate you. When dealing with these clients, it's best to have all your paperwork in order and maintain clear boundaries on how you will and will not receive payment. 
But always remember to stay respectful while maintaining your boundaries! Also, remember that good breeders make matches, not sales which means they place their puppies in the homes that are the best fits instead of making the quickest dollar.  
Other Tips For Starting A Puppy Business 
Here are a few more tips on raising dogs from Gloria and Laura:  
Training your dogs

and keeping them in optimal health requires human interaction. Be prepared to spend quite a bit of time with your dogs. 

Once your female has puppies, be prepared for a hectic eight weeks! The weeks between birth and sending your puppies home will be full of paperwork, vet visits, photo shoots, messaging customers, and caring for puppies round the clock. Block out those weeks for puppy care and expect to get less sleep and spend more time at home during this period. 

Expect the unexpected. Birthing and raising puppies doesn't always go exactly as planned. 

Remember that it's not all pretty. You'll have to get up in the middle of the night, sacrifice social events, do a lot of paperwork, and clean up a lot of messes! According to Laura, "It is very rewarding to see puppies placed happily with their forever families and to receive income for your labor, but it isn't easy work. It requires a lot of time, sacrifice, and hard work. " 

Be prepared for heartache, too–puppies get sick and die, clients get mean sometimes, and mothers develop health issues. It's all part of the business. 

Stick with it! The longer you go, the more you'll learn, and the better things will go for you.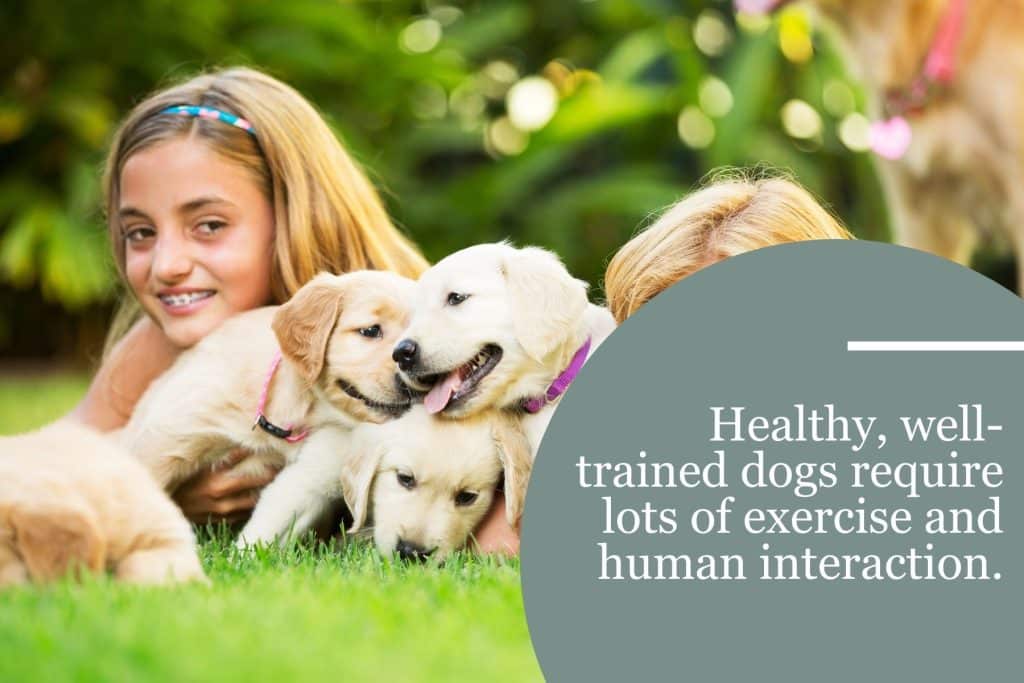 Selling puppies is a rewarding experience with lots of joys, challenges, and heartaches. We hope your puppy-selling endeavors turn out excellently! 
If you want to easily market your puppies today, join us at Infinity Pups. To learn more, contact us today! 
Marketing with Infinity Pups means that: 
You are assured that the people who view your puppies are interested in buying a puppy 

You won't have to fight the suspicion of being a scammer, as customers know you've already been vetted by Infinity Pups

You won't have to spend time and money keeping a website or social media page up to date 
You can also check out more resources on our blog, which includes articles such as: 
We look forward to hearing from you!