It's hard work, but raising puppies can be a fun and fulfilling way to make some extra money from home. It can even be a full-time job! 
However, selling puppies isn't very rewarding if you struggle to find buyers for them. 
Today, Infinity Pups has an article for you that will help you understand some of the ins and outs of selling your puppies online. We'll cover tips, tricks, and three of the most common methods for selling puppies online. 
We're ready if you are!
Here are a few reasons why selling puppies online is beneficial: 
#1: Increase number of potential customers  
The most obvious reason to market your puppies online is to exponentially increase the number of potential customers you reach. You could skip the computer work and get the word about your puppies out through print ads in your local newspaper, fliers in shop windows, yard signs, etc., but you'll never reach the number of customers you can online. 
Of course, marketing online means you may get clients from different geographical areas, and shipping a puppy to a buyer from a different state is more hassle than selling a puppy locally. You'll have to decide if you are prepared to deal with that. The good news is that people are often willing to drive many hours to pick up a puppy from a good breeder, so even if you decide on a no-shipping policy, you can still sell to out-of-state clients.  
#2: Target an audience 
If you print an ad in a magazine or local newspaper, chances are that most of the viewers that look at your ad aren't interested in buying a puppy. The same goes for flyers, yard signs, and other such methods.  
Online, you can target specific audiences through your website and ads. If someone clicks on a puppy website, chances are they are looking for a puppy to buy! 
#3: Build credibility 
If people can read about you, your family, and your puppies online, it boosts your credibility and assures buyers you aren't a scam. Things like testimonials, info on your breeding practices, and prompt communication also help boost your credibility. 
Having good info about yourself online can also save you time because it means you won't have to answer as many questions on the phone. If people can read all about you on your website or social media account, they can be confident about you when they call.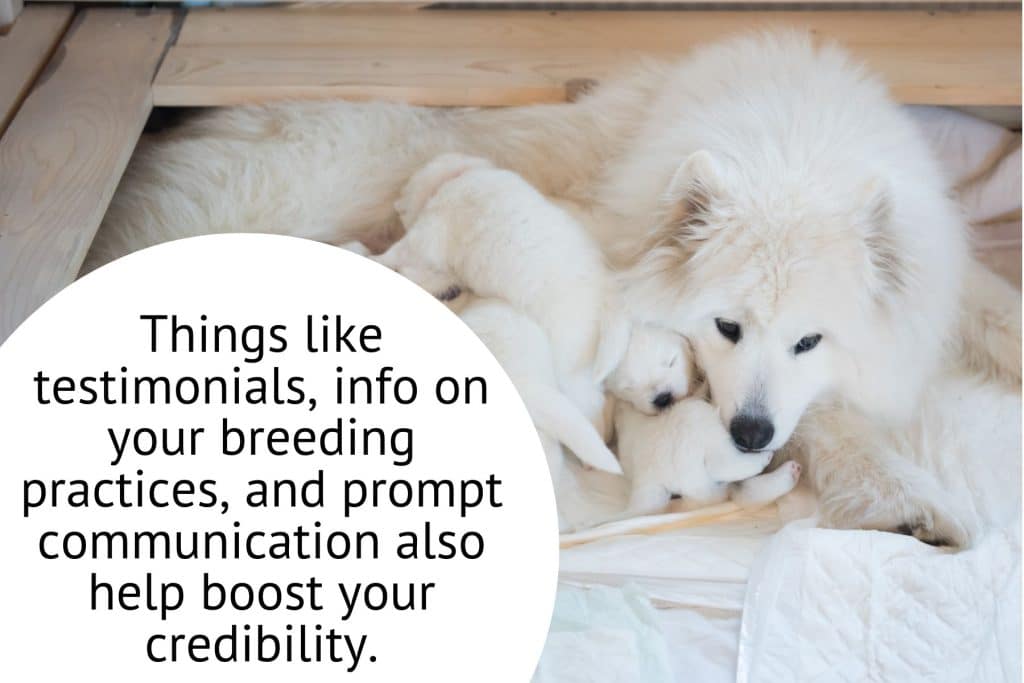 3 Ways To Sell Puppies Online
So you want to market your puppies online. Where do you start? What platforms and methods can you use for puppy marketing? 
Here are the three best options for online puppy marketing, plus some tips for using each one: 
1 - Social Media 
If you run a low-key puppy business, social media puppy marketing is probably the way to go for you. There are several reasons why social media is the easiest way to market your puppies: 
You don't have to pay the annual fee for hosting a website 

You don't have to pay a fee to post on a third-party puppy website 

Most people already know how to create and use social media accounts 
Using social media to market your puppies isn't difficult. The breeders we talked to use Instagram and Facebook–one breeder states that using both Instagram and Facebook helps her reach different generations. According to this breeder, Instagram reels are highly effective. 
Here are a few tips from another breeder for using social media: 
Respond to every comment, share, etc, as promptly as possible. Even negative comments are a chance for you to interact with customers and prove to others that you are a considerate, responsible seller. 

Post pretty regularly, preferably once a week. Even if you don't have litters of puppies year round, find other things to post about: dog memes, tips, quotes, videos, and more. 

Pay attention to how your customers talk about their dogs and reflect this language on your social media page. Using the same language as your customers helps you be relatable and understandable. 

Be willing to be vulnerable and honest - people want to see the real you and want to buy from breeders they view as human. 

Have set answers to common questions people might ask, and be willing to stick to these. People may want to push you around. 

Always be polite, respectful, and kind. Amazing customer service sets you apart from the crowd.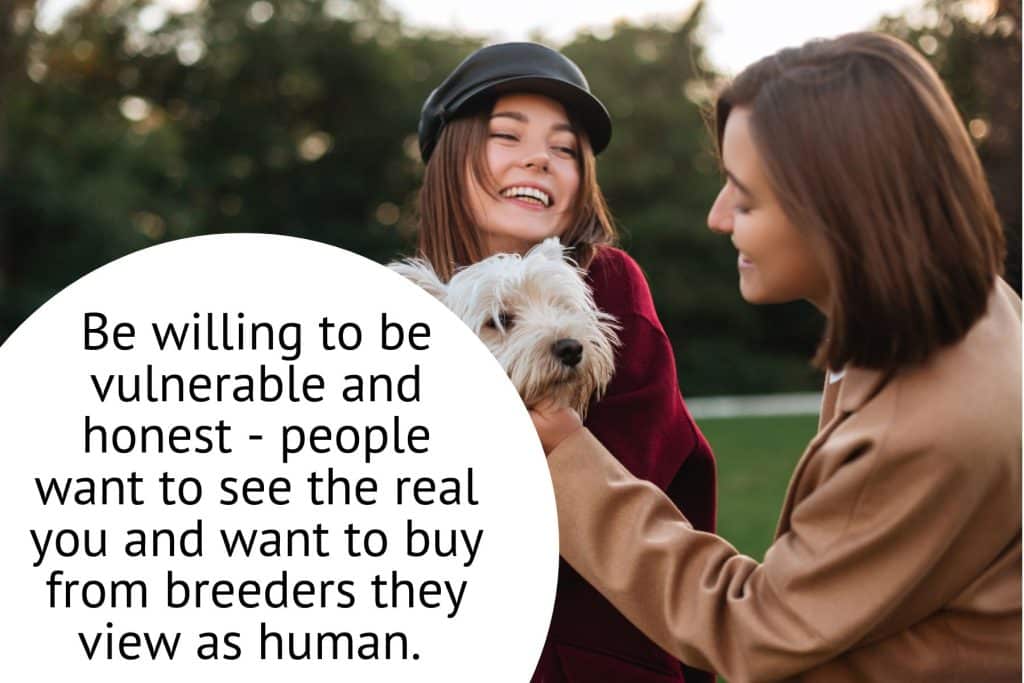 2 - Personal Website
If you are in this for the long haul, a personal website is an excellent option for you. Building and maintaining a puppy-selling website is more challenging than sticking with social media, but it's an excellent step for serious businesses. 
Here's what a personal puppy-selling website can do for you: 
Build your credibility by leaps and bounds 

Create an immediate sense of friendship and transparency between you and your clients 

Save you time–if people can find out all about you on your website, they'll be confident about you before you call, and you'll need to answer fewer questions on the phone. 
Here are a few things you should include on your website: 
A "meet us" section where you introduce yourself and your family. Clients love to feel like they know you, and they NEED to know you aren't a scam. 

It's also a great idea to include a "meet our dams/sires" section, where clients can look at pictures of your dogs and read a little about them. 

Client testimonials and pictures of full-grown puppies you've sold also help boost your credibility and let potential clients know how their puppies could look when fully grown. 
If you want an example, Buffalo Valley Puppies is a great example. 
A personal website is the most work-intensive option you have, but it does offer some benefits. It's a giant step up from simply using social media and allows you to share more info with your clients. It also allows you to showcase your puppies without the competition of other sellers posting right beside you like they would on a third-party website. 
3 - Third-Party Puppy Selling Websites 
Your final option is to use a third-party puppy selling website such as Puppies.com, Greenfield Puppies, or Infinity Pups. 
You gain several advantages by using a third-party website: 
You don't need to go to the work of building and maintaining your own website, which is something not everybody knows how to do.

You still gain instant credibility since clients can rest assured that the puppy-selling company has already vetted their listed sellers.

The viewers that look at your puppies on a puppy website are certainly looking for puppies to buy. Otherwise, they would have no reason to be on the puppy-selling website!
All in all, you get a lot of the same perks with a third-party site that you would with a personal website, only with less work involved. You just have to sign up to be a listed seller, and the site takes care of a lot of the work from there, although you'll have to pay a fee to list your puppies. 
A Word On Taking Photos Of Your Puppies 
There is one thing you'll need for any marketing method you choose, and that is good pictures. Quality photos of your puppies are one of the biggest selling advantages you can give yourself. 
Here are tips from our breeders on taking quality photos of your puppies: 
Invest in a decent camera–phones are OK, but they don't beat a real camera with a decent lens! For photographing puppies, we recommend investing in an entry-level camera body from Canon or Nikon and at least a kit lens, if not a more advanced lens. A short course on camera settings and lighting might not be a bad idea either. It will ultimately pay off if you are serious about your puppy business! 

Take it easy on the props. People want to see your puppies, not everything in the background. Stick with simple backgrounds that make the features of the puppy stand out. 

Amazing lighting is key. The best photographer in the world has a hard time working with low lighting. Try to work with natural lighting that's coming from the front. Large windows are perfect. 

Take "lifestyle" photos and videos - pictures of your puppies playing that aren't posed. People LOVE to see the personality of their puppies in videos and photos. 

Be patient. If you think you will get the perfect picture of your puppy in 2 minutes, think again. These squirming, curious puppies can be difficult to get a photo of. 

Include some photos of your puppies playing with people. This tells your customers that your puppies are well-socialized. 
Videos of your puppies are great, too, since buyers love to see puppies' personalities coming out. Videos of the puppies playing with toys, interacting with kids or adults, or even sleeping and having a twitchy dream can delight potential puppy parents.
Miscellaneous Tips For Online Puppy Selling
Here are a few miscellaneous tips for selling puppies to wrap things up: 
Manners, respect, and excellent customer service are absolutely key. Frequently people buy from the breeders they like best as people rather than the breeders with the best breeding lines and credentials. 

Listen to your customers. Dogs are like family members to many people. Sometimes a customer has just lost their dog and is for a replacement. Listening to their story and empathizing with their pain or hearing about their past experiences with dogs often gets you further than any marketing could.  

A contractual agreement that protects you and your customer is a must. 

Read up on

how to spot and avoid puppy scams

, both as a breeder and buyer! Sadly, puppy scams are rampant, and you must be on the lookout. 

Building trust and a good relationship with your clients should always be your top priority when marketing online. 
It's hard work, but selling dogs can be a fun and therapeutic way to make a little extra cash. We hope this article helps your business run smoothly! 
If you want more info on starting a puppy business, read our blog on the subject. 
And, if you want to market your puppies with complete ease, sign up with a third-party website like Infinity Pups! 
Contact us today or visit our website for more information on how to become one of our breeders. 
We look forward to hearing from you!